MSL is a manufacturing company specialized in the production of construction products designed for commercial roofing, soundproofing and thermal insulation. MSL's mission is to manufacture a wide range of innovative and environmentally friendly products while ensuring a level of service and efficiency which meets the expectations of our clients and distributors.
Our mission
MSL develops and produces ecofriendly and high quality value added solutions for the construction industry.
Our facilities
MSL has two manufacturing facilities (MSL and Convermat) in Louiseville, Quebec, as well as a sale office in Montreal. The MSL factory is certified ISO 9001:2015, with a fully automated production process which operates with a completely closed loop water system (zero effluent) resulting in an efficient and environmentally friendly mill. The panels produced by MSL are made from 100% recycled wood and are 100% recyclable as well. The Convermat Division is equipped with state of the art technology for laminating and production of composite panels.
MSL has developed and patented many products which are distributed across North America.
History of MSL Fibre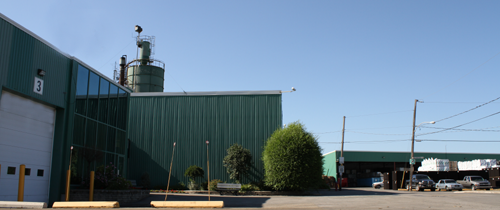 The original Louiseville mill was built in 1946. Between 1946 and 2004, it was successively purchased by Air-Cell Insulation, Barrett Co., Allied Chemicals Canada and Canadian Gypsum and eventually bought by Cascades (Les Matériaux Cascades inc.) in 1980. Matériaux Spécialisés Louiseville inc. (MSL) acquired the mill in 2004.
MSL has built a solid reputation over the years and is a leader in the development of environmentally friendly products. The MSL mill operates with a completely closed (zero effluent) water system resulting in an efficient and environmentally friendly process. MSL's fibreboard panels are made with natural, non-toxic materials. They are dimensionally stable, lightweight and easy to install. Recycling and the protection of the environment will always be part of MSL's core values.